The Student Ministry at Harvest Point exist to EQUIP students to impact the world for the glory of God.
Matthew 5:13-16
13 "You are the salt of the earth, but if salt has lost its taste, how shall its saltiness be restored? It is no longer good for anything except to be thrown out and trampled under people's feet. 14 "You are the light of the world. A city set on a hill cannot be hidden. 15 Nor do people light a lamp and put it under a basket, but on a stand, and it gives light to all in the house. 16 In the same way, let your light shine before others, so that they may see your good works and give glory to your Father who is in heaven.
SUNDAY MORNING
LESSONS & VIRTUAL LINKS
Junior High Ministry
7th & 8th
Access Junior High School Virtual Classroom
By Clicking Link Above
Phone: +1 786-540-4333
PIN: 467 181 534#
High School Ministry
9th – 12th
Access High School Virtual Classroom
By Clicking Link Above
PIN: 322 584 283#
More numbers:
WEDNESDAY NIGHT BIBLE STUDY
CLICK HERE TO ACCESS WEDNESDAY NIGHT BIBLE STUDY SURVEYS
For each subject, there will be a pre and post survey. Students are encouraged to complete prior to watching the videos.
For videos go to the link above to access Student Ministry YouTube Account.
2023
Bible Study Topic of the month:
February: 
Beginning the 1st Sunday in February, we are doing a series called "There's An App for That".  It's a peak at some of the practical lessons that the book of James teaches.  
More information to come…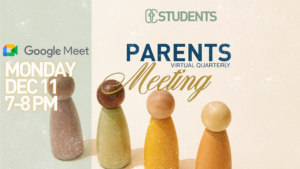 December 11 @ 7:00 pm

-

8:00 pm
Virtual Meeting

Virtual Call on Google Meet
March 8, 2028 @ 7:00 pm

-

8:00 pm
Harvest Point Fellowship

12155 Shadow Creek Pkwy




Pearland

,

TX

77584

United States

+ Google Map